Stranger than science fiction… SCI-FI CAPITAL EMBRACES SPOOF
This weekend, some of the TENCLO cast travelled to Cardiff to see it screened at the Chapter Arts Centre, where it was given a rapturous welcome by staff and audience alike.

Being the home of Dr Who and Torchwood, Cardiff is no stranger to science fiction. But this weekend, it saw Backyard Productions' own spin on the genre, and from the response, it wasn't quite what they were expecting.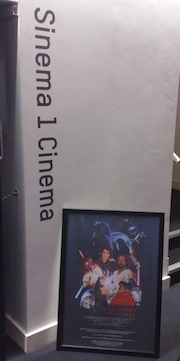 The Chapter Arts Centre showed its modern image was more than just a lick of paint by screening The Emperor's New Clones as part of their Fan-Tasia season. Many of the cast had driven for hours to see it on the silver screen again, and nervously awaited the response. Luckily for them it was laughter all round from the opening crawl to the end credits. Those that hadn't seen it before were impressed by the visual effects and original humour.
Afterwards, Darren answered questions on the film regarding matters such as time and costs. Then, before settling down to drinks at the famous bar, the guests were ushered into another cinema. Some youngsters had started playing Lego Star Wars on the big screen! It was surreal, but maybe it will inspire them too.
Backyard Productions thanks Steve Sullivan and everyone at the Chapter Arts Centre for showing such enthusiasm for its work.